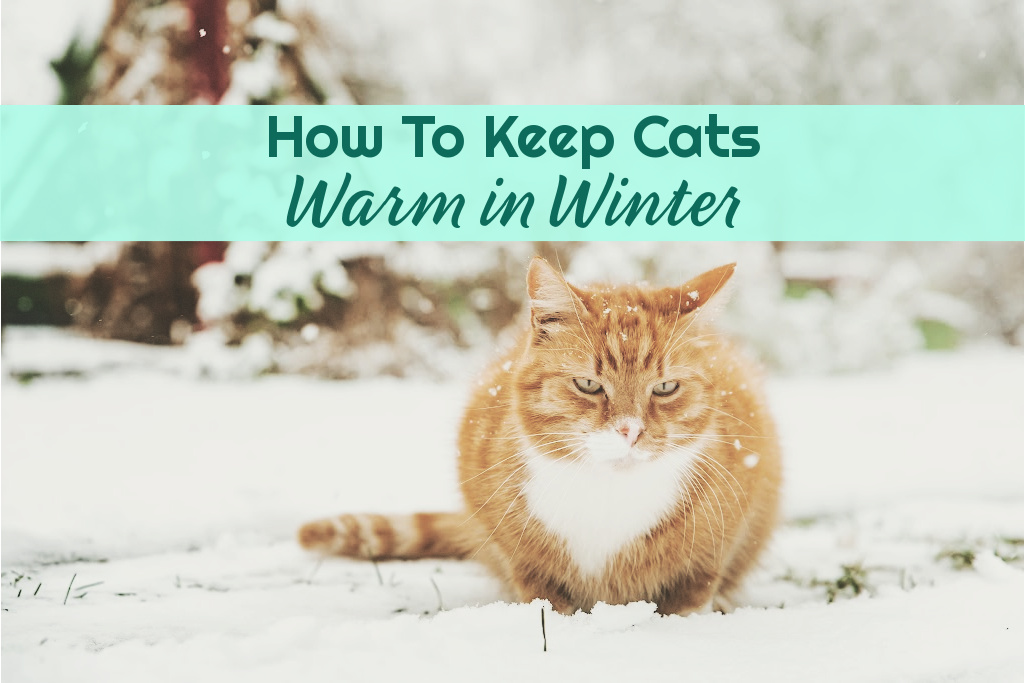 Some of the links on this site are Affiliate Links and if you use them to make a purchase, we may earn a small commission. For more information, read our Disclosure Policy.
As the seasons change and temperatures drop, you are probably wondering how to keep your cat warm in winter. You are right to worry about your cat and wintery weather – and there are several ways to make sure your cat stays comfortable when it gets cold. We have rounded up the best tips for how to keep cats warm in winter so that you can rest assured that your feline friends are cozy.
How Do Cats Stay Warm?
Before we jump into the different ways you can help to keep cats warm in winter, we need to answer the question: How Do Cats Keep Warm in Winter? Some cats can withstand surprisingly cold weather – especially feral and stray cats that are acclimated to brisk temperatures and natural elements during the winter months.
So, how do cats stay warm in winter? Cats are well-suited to regulating their own body temperature – even in the cold winter. In addition to being naturally insulated with their fur coat and a layer of fat, cats instinctively know to curl up and to seek out small, confined spaces when it gets too cold. That said, kittens and elderly cats are especially susceptible to the cold – and all cats need a place to go to when temperatures are frigid.
How to Keep Cats Warm in Winter
How to keep your cat warm will depend on whether you have an outdoor cat or indoor cat. We are going to cover how to keep cats warm in winter – for both!
How To Keep Outside Cats Warm
If you are concerned with keeping outside cats warm, there are a few things you can do to ensure they can find warmth. How to keep outdoor cats warm will depend on your relationship with the cat (and whether it is feral, stray or your own cat that prefers the outdoors). A cat shelter and heating elements are the two most common ways to keep cats warm outside during winter.
How To Keep a Cat Warm Outside: Outdoor Cat Shelter
A cat shelter is the best way to keep cats warm in winter – and there are many different kinds of shelters to choose from. In fact, if you are handy, you could even construct your own – but there are simple affordable cat shelters you can buy, too. A modest cat house – like this one – can cost as little as $35.
Best Features of Cat Shelter for Outside
Whether buying or making a cat shelter for keeping cats warm in winter, there are a few basic elements you will want to make sure it has. First, it should be waterproof; there is no point in a winter weather shelter if it absorbs moisture. Second, it should not be too big, otherwise the cat will not be able to use its own body heat to warm up the large space. Third, it needs to have some sort of insulation and/or heating element.
When determining how to keep cats warm outside, it is also nice if the material is wind resistant and there are door flaps. One other essential feature is a raised opening (at least two inches off the ground) that will deter water or snow from entering the shelter.
What Heating Elements Should I Use for a Winter Cat Bed?
Utilizing a heating element for your outdoor cats is an excellent way to make sure they stay snug and comfy. That said, if you are going to use an electrical heating element in your outdoor cat shelter, you need to ensure it is pet friendly and safe to be used outdoors.
If electrical heating elements will best suit your cat, there are many options. We think one of the best heated cat houses on the market is the K&H Kitty House, which comes with a MET Labs certified electrical heating pad.
How To Keep Cat Warm Outside Without Heat Element?
Some ways you can help insulate the space without a heat source is using mylar blankets or even straw (not hay!). You can also buy a microwavable heating pad that stays warm for up to 10 hours.
Find more styles that will meet a range of needs on our Heated Cat House Outdoor page.
Where Should I Put the Shelter?
There is more than just the shelter to consider for how to keep outdoor cats warm in the winter. After you buy or assemble your cat shelter, a little bit of thought needs to be put into where to place it. Note: If you are using an electrically heated cat house, be sure to follow the guidelines provided for the best placement.
One of the best places to put a shelter for feral or stray cats is in spot that is near where you feed them, as they are already accustomed to being in the area. That said, it is not recommended to place the food inside the shelter, as it can attract other animals.
It is also a good idea to place the shelter close to a structure (like the side of a house) to block the wind – but at the same time in an area where it can get natural sunlight to help keep it warm inside.
More Tips for How To Keep Outdoor Cats Warm in Winter
We have shared how to keep an outside cat warm in winter with a shelter, but we have a few more tips that you might find useful.
Heated Food Bowls
While shelters are one of the best ways for how to keep outside cats warm in winter, there is more you can do! Providing a consistent food and water supply with help in keeping outdoor cats warm in winter. Rather than using energy hunting food, cats conserve their energy and use it to stay warm.
Dry food for cats is a good idea during the winter, because it won't freeze. That said, cats use more energy to process dry cat food than wet food.
If you live in a place where there are long bouts of freezing temperatures, a heated food and water bowl is a good way to make sure your cat will have a supply of unfrozen food and water.
Tips for How To Keep Feral Cats Warm
Keeping feral cats warm in winter comes with a unique set difficulties. Never before having interactions with humans, it can be difficult for a feral cat to trust entering a human-made shelter. In order to coax them into the cat house, you could leave a little catnip inside the shelter to encourage them to enter.
Furthermore, if you are caring for a feral cat colony, you may need a bigger shelter (or more than one). Keeping the cats together will help keep them warm and safe.
Tips for How To Keep a Stray Cat Warm Outside in Winter
How to keep stray cats warm is a little easier, as they are already accustomed to human interactions. Catnip and treats can be used to get the alley cat familiar in the new shelter.
Additionally, a stray cat may be comfortable (and confident) enough to spend the coldest nights in a garage or barn. If you are agreeable to letting them in, make sure you have a warm bed set up for them.
Tips for How To Keep Cats Warm in Garage or Barn
If you own an outdoor cat or have barn cats, an electric cat heating pad might be a perfect solution for your kitties. Just make sure your heating pad meets MET Labs safety standards – like this one!
For more options, check out our top picks on our Cat Heating Pad page!
How To Keep a Cat Warm Inside
While keeping outdoor cats warm seems obvious, many cat owners don't consider how to keep indoor cats warm in winter. Drafty doors and windows, cold tile floors and lack of sunshine can all affect your indoor cats' ability to stay warm in winter.
How To Keep Cat Warm in Winter: Cat Sweater
While it is generally not recommended to keep a sweater on your cat all the time, a cat sweater can help to keep your cat warm on particularly cold days.
If your kitty likes to snuggle with you, you can keep them extra close with a Hoodie with Cat Pouch.
Cat Sweaters are one of the best cat presents! Find more cat gift ideas on our Christmas Gifts for Cats list!
Warm Bed for Cats: Self-Warming Pod
Perhaps all your cat needs to keep warm is a partially enclosed self-warming pod. There are many cat beds to choose from, but this pod is made of 100% Merino Wool to help keep your cat warm in winter and cool in the summer. If your house still gets sunlight throughout the wintertime, consider a cat window hammock where they can comfortably warm themselves in the sunshine.
Find other options and styles on our Self-Warming Cat Bed page!
How To Keep Cat Warm in Winter: Pet Safe Space Heater
Space heaters are great for keeping cooler rooms warm during the wintertime, but not all space heaters are pet friendly. The Cozy Pet Warmer, however, is a heat panel that is specifically designed with cat safety in mind. The radiating heat will keep your cat warm, even if you keep your house cool.
Keep Your Cat Warm: Heated Pad
An electric heating pad can keep your cat warm in winter – especially if you have cold floors or drafty doors. There are several options for heated pads and blankets where you control the heat – but we think the Pressure Sensitive Heating Pads are ideal (especially for cats who are left home alone during the workday).
How To Keep a Cat Warm in Winter: Heated Bed
A heated cat shelter might be the best way for how to keep a cat warm in the winter – even inside.
Electrically heated beds are especially nice for elderly cats – or in any home that is kept a touch too cool. Styles of heat bed for cats range from plush to modern.
Find more top picks on our Heated Cat Bed page!
---
PIN IT!